Always an artist, Karen Eckmeier loves the creative process. As a young child, she was often found wielding a pencil, sketching lines and patterns on any available surface. She continued to cultivate her artistic skills as she grew by accepting employment for real estate firms; illustrating pen and ink renderings of homes. Then one day, Karen saw a quilt. Its elaborate beauty astounded her. At that moment she determined that if she could draw it, she could also sew it. She dusted off her never-used sewing machine from the top shelf in the closet and began to create.
---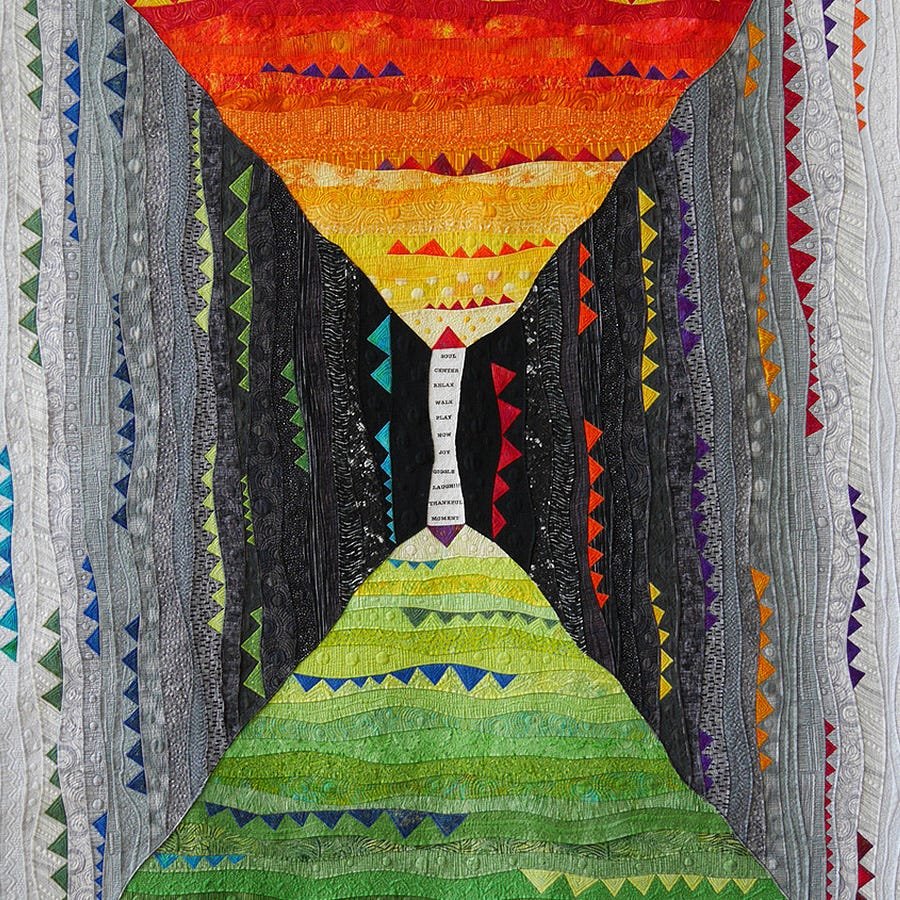 ---
Through the years Karen has been recognized with many awards for her playful technique and whimsical style. She has even written several books that are available on her website, quilted-lizard.com, that feature her topstitch piecing technique. She loves to create fiber art that makes people smile. Her quilt, Turning Over a New Leaf, is no exception. It was an evolution over several years featuring over a hundred topstitched rose twirls with a Kaffe Fassett millefiori in the center. While it was stunning, the design wasn't as strong as Karen wanted, so she put the project aside to mull over. A year later, she added layered leaves and tried a new design scheme. As she sewed, the realization of a miscalculation came, and Karen was forced to cut all the leaves to a smaller size. She named her quilt Turning Over a New Leaf because she was literally turning out new leaves and it was also a symbolic turning of a new leaf for the new year. Her efforts paid off as she won second place in Houston at the International Quilt Festival 2018 in the Pieced, Small category.
That year, Karen dominated the Pieced, Small category in Houston. She also won third place with her quilt Into the Light. This quilt presented an artistic challenge. The goal was to configure a giant log cabin block in the courthouse layout using topstitched logs and machine appliqued triangles. She had never arranged warm and cool colors with subtle gradations from white to gray to black, but the outcome was better than anticipated. She added "light" in the center of the quilt by printing inspirational words as reminders to stay in the moment and enjoy the present: soul, relax, center, play, walk, now, giggle, joy, laugh, thankful and moment. When Into the Light was complete, Karen realized its resemblance to a giant butterfly — a representation for hope and life.
---
---
Turning Over a New Leaf and Into the Light were both quilted with Karen's favorite Superior Threads, King Tut and MasterPiece. She informed us that a snapshot of her thread rack would reveal 98% Superior Threads and only a few renegade spools. We love seeing our thread displayed in such intricate fiber art and being a small part of the great success of Superior Stars like Karen. We offer her our heaps of congratulations on her dual wins!